Read the rest of this entry »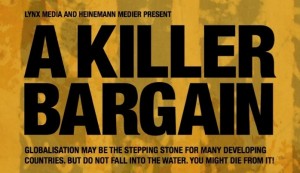 Se den danske version af filmen her:
Dansk dokumentarfilm fra 2006. Filmen er blevet vist i mere end 30 lande, og har vundet talrige priser på internationale filmfestivals. (bl.a. Prix Italia, GZ Docs, Golden Panda, Ibiza Film Fest, Envirofilm, EkoFilm osv.)
Instruktøren vandt Foreningen for Undersøgende Journalistik (FUJ) store graverpris, og blev senere nomineret til Cavlingprisen for sine afsløringer af, hvordan bomulden fra Indien endte på hylderne hos Dansk Supermarked, JYSK og svenske ICA. Vejen dertil involverede børnearbejdere, skyer af sprøjtegift, ødelagte helbred og en enorm forurening af vand og land.